Can't stand the scene or your office? Or just feeling for a change in scenery? Here are a few underrated, handpicked hotel lounge bars that you may want to hold your next meeting or a casual get-together in.
Bryant Park Lounge at the Marriott
1033 Avenue of the Americas
The spacious and quiet Bryant Park Lounge is on the 3rd floor of the Marriott Hotel, and offers live music at the bar. Happy hour goes on everyday from  5pm-7pm. This lounge is a great place to wind down after a busy day at work, or hold that client meeting you've been meaning to schedule.
The Lobby Bar at the Ace Hotel New York 
20 W. 29th Street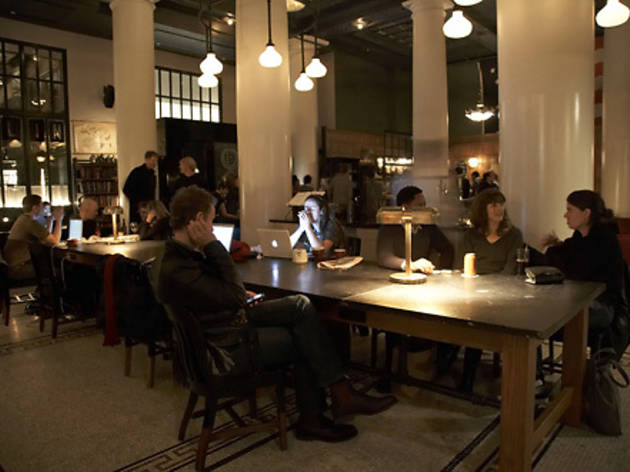 The Ace Hotel is ideal for posh types, as they serve not only cocktails and beer, but also Stumptown coffee. Spend an afternoon on one of the cozy sofas while the rotating DJs serenade you.
Grand Bar and Lounge at the Soho Grand Bar
310 W Broadway, New York, NY 10013
With chandeliers and meticulously-crafted cocktails by mixologists Natasha David and Jeremy Oertel, the Grand Bar and Lounge is an ode to the old, industrial New York ambiance. The bar offers a select 50 types of American whiskey. Ensconce on a sofa by the windows to de-stress from a busy workday.
Library Bar at the Hudson Hotel 
358 W 58th St, New York, NY 10019
Featuring a large fireplace and a massive collection of books almost eligible to compete against the Strand, the Library Bar is the perfect watering hole to catch up with an old friend, discuss about that deal you closed, play a round of billiards, or to just simply thumb through a book over a cocktail.
These are just a few of the many hotel bars tucked in the city. Try visiting a few of these locations to get the most out of your day.